About

Gail E. Hedrick
Born and raised in Lansing and Gun Lake, Michigan, Gail and her younger brother, Dean, developed a love of books through trips to the public library. Their parents combined an active life ice skating, biking, sledding, water skiing or sailing with reading. This developed Gail's lifelong passion for sports and curiosity about the world that was an incubator for writing. It just hadn't hatched anything yet!
Gail studied health and physical education at Michigan State University. After her sophomore year, she took a summer job lifeguarding and teaching swimming at Sunnybrook Farm in South Haven, Michigan and her life changed forever. Gail met Mont Hedrick, from Lexington, North Carolina and that Southern boy swept her off her feet. They married and Gail transferred to the University of Houston, graduating with a degree in health and physical education and minor in speech and theatre.

She taught physical education, was a YMCA administrator, coached swimming and gymnastics and developed a preschool movement education program. Next, Gail got the best job on earth, mom to Ben and Josh, and read to them every chance she could. This sparked the desire to learn about writing and she enrolled in courses from the Institute for Children's Literature. She just intended to learn to write, but when the teacher encouraged submitting her first completed lesson to a magazine and it sold, Gail was hooked!
So, what does she write about? It varies, but Gail writes about everyday things that kids deal with like setting the table, studying, following directions, facing fears or being a friend. She writes a lot about movement as in not sitting still. Bounce a ball, go for a run, play with a hula hoop or roll in the grass – she's not too picky, but really believes everyone needs to wiggle around everyday.
Gail continues to write, freelance edit and review, publish, and take writing classes. She and Mont live in Florida. To see how the boys turned out, check the photo section. Gail collects seashells and loves to travel; bringing back a shell or rock from every place she visits. She likes to walk, swim, exercise, kayak, and yes, read!
News
Activity "Pat Your Tummy" published in Highlights High Five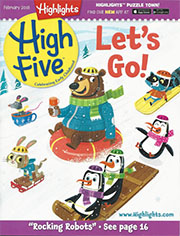 Article "Making Sense of Scent" published in Nature Friend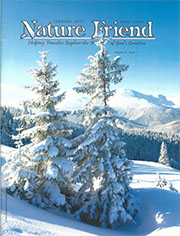 To catch my Author Appearance on Channel 7's Suncoast View Click here!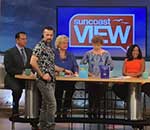 Terrific Book Signing
Bookstore1Sarasota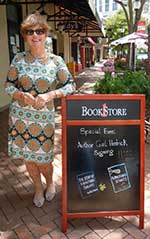 Reviews
"…The Scent of Something Sneaky is a top recommendation for pre-teens and teens looking for a leisure read that's action-packed and vivid."-- Midwest Book Reviews
"…a good adventure that not only dwells on the intriguing mystery at hand, but also on the characters themselves." – Readers' Favorite 5-Star Rating
And, for Stinks!---August 7, 2015 "STEM Can Be Fiction, Too"
"...the type of book that is likely to inspire readers who might otherwise avoid STEM to give it a chance because it reveals how science can have important real-world applications." STEM Friday
More reviews in Recognitions
Selection as a 2014 Outstanding Science Trade Book has helped Something Stinks!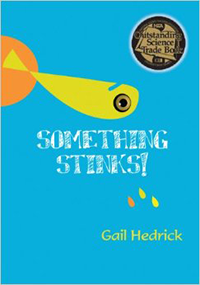 continue to be discovered.
And, finally...
I've traveled from Virginia to Orlando to Olympia, Washington talking to kids about writing and science.
Teachers say Stinks! "will help me show my students science isn't just a subject we learn…it's a way of life!" And, "your book…we are using in conjunction with an end of the year STEM project on filtration and pollution."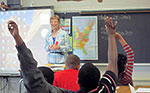 Interested in an author visit?
Need a speaker for parent workshops?
Email gailehedrick@yahoo.com for more information
Member: